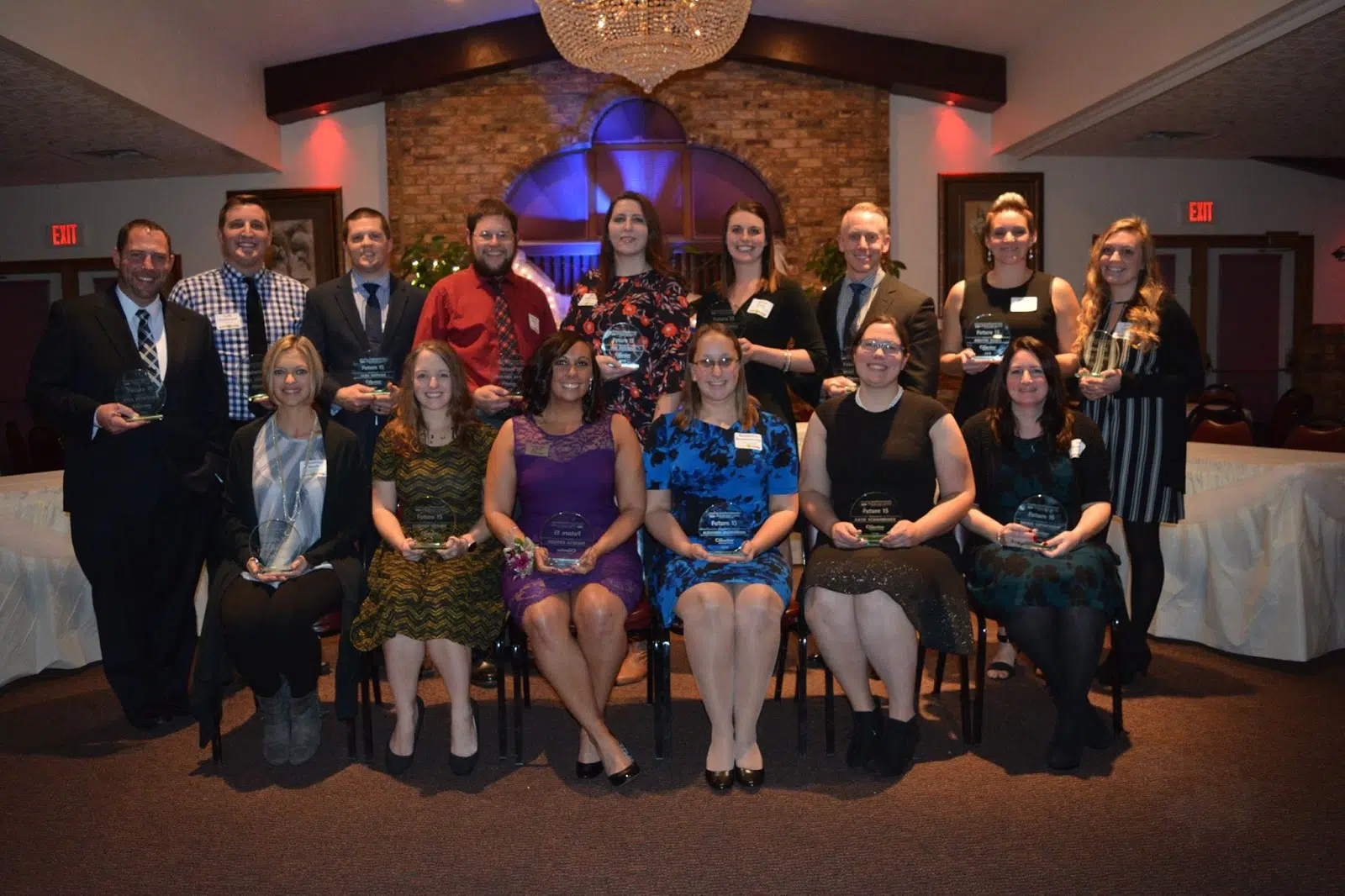 Manitowoc County's Young Professional group honored the Future 15 Award Winners at a banquet dinner on November 8. This prestigious award recognizes Manitowoc County's finest young professionals ages 21-40 who were nominated by their peers who believe they are making a difference in the communities that they live and work in. The banquet, which was held at Knox's Silver Valley Bar & Banquet Hall, consisted of a social hour, dinner, and speeches by each of the award winners. The Young Professional of the year is chosen at the annual Manitowoc Chamber dinner in February. A short biography of each candidate is included below:
Alexandra Brendemuehl has been the Program Coordinator at the Manitowoc County Historical Society for three years and is a graduate from Silver Lake College. During her time at Silver Lake College, she received the Freddy Award for dedication to service on campus. Alexandra is very involved in promoting history in the schools. She taught history afterschool programs at Jefferson Elementary School and has been a project judge at Wilson Junior High's National History Day.
Kyle Bryntesen holds the role of Hometown Business Development Officer at Shoreline Credit Union and helped bring the Credit Union's Hometown Brand to life. In addition to running the Salvation Army's most successful Red Kettle Campaign, Kyle also serves on the Board of the Two Rivers Business Association and Manitowoc Noon Rotary. He is also involved in The Crossing, Big Brothers Big Sisters, The Chamber, The Haven, Kiwanis Club of Manitowoc and has helped with multiple other local events and causes.
Brian Graf is the Director of Therapy Services & Wellness Center at Holy Family Memorial. Brian serves on two leadership boards at Holy Family and is an active member of Bethany Lutheran Church. Brian also assists and participates in multiple community benefits including the Sip, Savor, and Support Gala, and Silver Lake College's Scholarship Gala.
Theresa Gregor is the Lead Advocate at InCourage. She is involved with many organizations throughout the community. Theresa received the 2018 Voices of Courage Award from the sexual assault coalition, WCASA for the help she gave her clients in the community. Theresa is also very involved in her children's schools. Her goal is to complete her paralegal certificate and attend Law School.
Dawn Grohskopf is the Director of Branch Operations at UnitedOne Credit Union. Her primary goals are to make a difference in the lives of her members that she works with. Dawn continues to work with organizations like Big Brothers Big Sisters, the American Heart Association, the Salvation Army, MS walk committee, Aurora Cancer Foundation walk committee, Children's Miracle Network, and Meals on Wheels in Sheboygan County. Dawn lives out the credit union's philosophy of "People helping people" in any way she can.
Katie Koenig is the Lead Case Manager at Hope House of Manitowoc County. She has been encouraging, motivating, and assisting homeless families and individuals obtain employment, housing and achieve other goals they may have. Katie volunteers with the Salvation Army teen center (The Light) and Big Brothers Big Sisters. Katie also participates in the Young Professionals of Manitowoc County.
Kim Kowieski is the Director of Operations at Farm Wisconsin Discovery Center and helped prepare the facility for construction and its grand opening. Kim is a member of the Young Professionals of Manitowoc County and participates in many events. Kim is also on the Board of Directors of Progress Lakeshore and received the Neighborhood Development Award on behalf of Farm Wisconsin in 2018. She is also active with her church and many other community committees.
Frederick Krause is a prototype specialist at DOWCO. Frederick has helped make contributions to the community through different service projects. He helped develop the nature board walks at Woodland Dunes. Frederick also works with different conservation initiatives such as Wisconsin Waterfowl Association and Ducks Unlimited and volunteers with the Lakeshore Disc Golf Club. Frederick shows great leadership skills both professionally and in his community.
Lindsey Krause is the Executive Administrative Assistant at Bartow Builders. During her years in school, Lindsey volunteered at Shalom High helping students graduate, build their resumes, learn interview and employability skills. Lindsey is an active member of the Lakeshore Area Human Resources Association and is on the Board of Trustees for McKinley Academy in Manitowoc.
Kristin Odell is the owner of her own human resources consulting business, KLO, LLC. Kristin volunteers with many organizations including USSA Salmon North Event, Manitowoc Youth Baseball Pony Tail League, Treehouse Theater, The Chamber of Manitowoc County, the Salvation Army, and was recently elected to serve as President of the Board for Grow it Forward. Kristin chooses to serve others so they may experience an amazing quality of life in Manitowoc.
Alex Ourada is the Associate Principal at L.B. Clarke Middle School in Two Rivers. Alex is passionate about coaching and officiating youth basketball and has coached for many years in area schools. Alex is also part of the Wisconsin Interscholastic Athletic Association, Association of Wisconsin School Administrators, and a member of the O Open golf outing fundraiser for the Miracle League. Serving the students and staff of L.B. Clarke is of the utmost importance to Alex.
Christma Rusch is the founder and Executive Director of Lighthouse Recovery Community Center. Christma is a Master Trainer for Adverse Childhood Experiences and has trained many people with trauma informed care education and practices. She has held many leadership roles in the recovery community and has made many strides in making Manitowoc County a recovery oriented community.
Katie Schamburek is the owner of Glaze & Paint Art Studio in Manitowoc. Katie is an active member of the Lakeshore Artists Guild and helped organize Art Slam. Katie also participates in many activities such as Relay for Life, Downtown Manitowoc events, and many fundraisers benefiting other local organizations. Katie hopes to further expand her business and bring more art into the community.
Rachel Schulz is the Human Resources Specialist at Investors Community Bank. One of her key achievements is her ability to serve others. Rachel helped create Investors Community Bank's first internship program. She also volunteers at her church and serves on their Board of Directors. Rachel also volunteers with Hope House of Manitowoc County, is a member of the Young Professionals of Manitowoc County, and a member of the Lakeshore Area Human Resources Association.
Scott Stuckmann is a tax manager and CPA at Schenck SC. He has actively participated with the Young Professionals of Manitowoc County for over a year and a half and has helped organize and participated in multiple events. Scott has also participated in the Leadership Manitowoc County Program and helped with service projects at the Lincoln Park Zoo. Scott hopes to become connected with local non-profit organizations and continue to volunteer in the future.
Congratulations to all of the Future 15 award winners who are making Manitowoc county a better place to live.