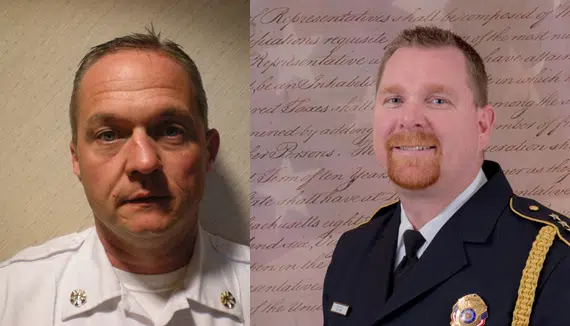 Today is the fifth and final day of the week-long series on suicide in commemoration of Suicide Prevention Week. Between this series and the one we put together back in June, we have spoken to veterans, civilians, and mental health professionals, but one often overlooked group that can suffer from PTSD and mental health problems is the members of our local police and fire departments. We sat down with Manitowoc Fire Chief Todd Blaser, and Police Chief Nick Reimer about what their departments are doing to help their team. Below is the full interview our own Ryan Brahm conducted with the two members of Manitowoc's Safety Department.
Part 1
0:00-3:10 Chief Reimer on PTSD/Programs
3:11-5:20 Chief Blaser Programs/Mental Health
5:21-6:15 Chief Reimer Importance of Getting Help
6:16-7:00 Chief Blaser
Part 2
0:00-1:52 Chief Reimer Response to Programs
1:53-2:38 Chief Blaser
2:39-4:48 Chief Reimer Procedure at Scene of a Suicide
4:49-6:16 Chief Blaser
6:17-7:36 Chief Reimer
Part 3
0:00-0:56 Chief Reimer Family not allowed to see body.
0:57-1:52 Chief Blaser Preserving the memory
1:53-2:36 Chief Blaser Final Thoughts
2:37-3:29 Chief Reimer Final Thoughts
3:30-4:36 Chief Reimer Procedure when someone calls 911 saying thEY want to hurt themselves
4:37-5:18 Chief Blaser 911 Operators
5:19-6:15 Chief Reimer 911 Operators
6:16- 7:50 Chief Reimer 911 procedure for call about someone else potentially wanting to hurt themselves