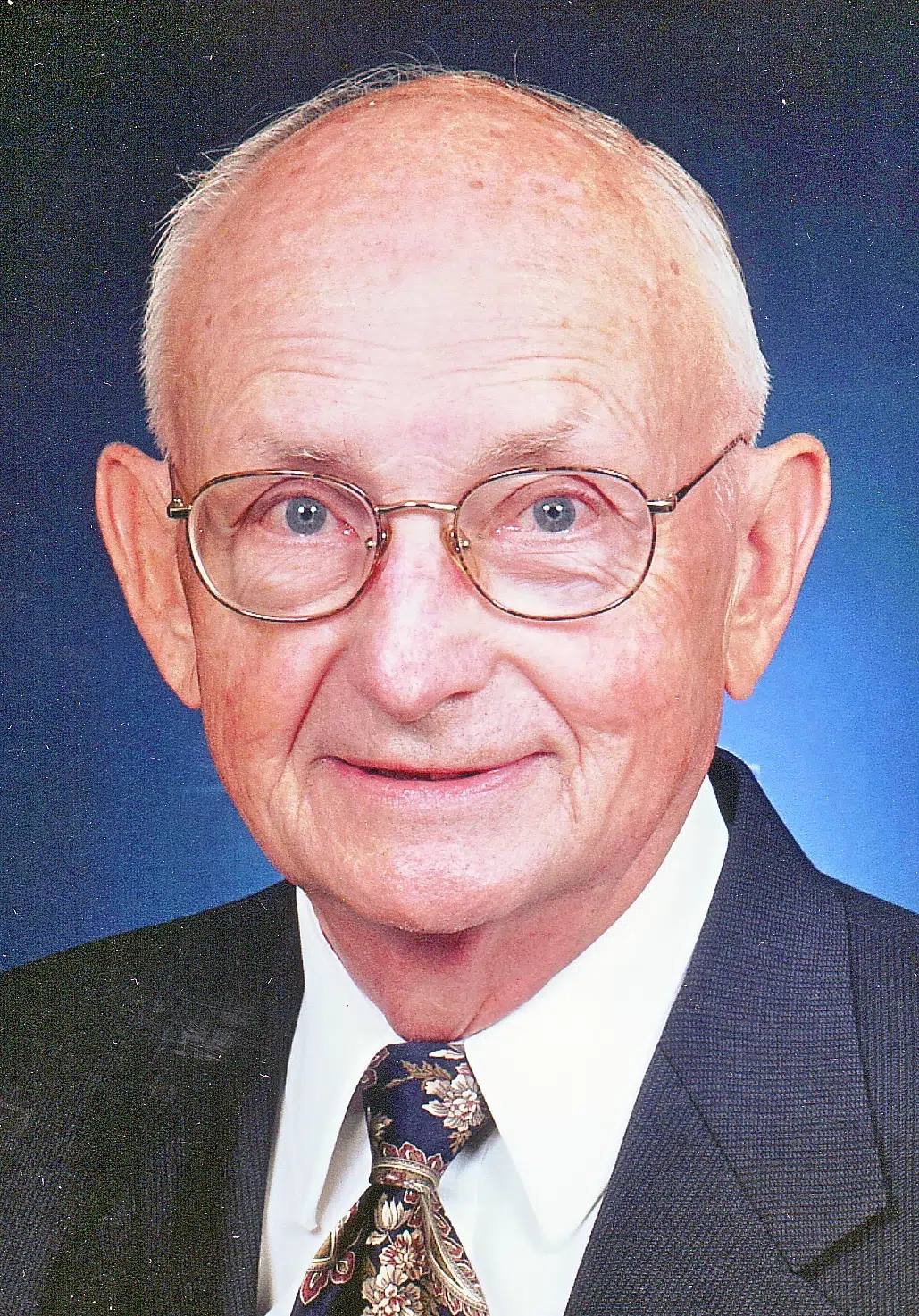 Dr. John E. Nilles, MD, age 90, lifetime resident of Two Rivers, entered eternal life at Wisteria Haus on Saturday, July 28, 2018.
John was born in Two Rivers on December 19, 1927 to Henry J. and Nellie (O'Connell) Nilles. He attended St. Luke's Catholic Grade School and was a graduate of Washington High School in Two Rivers. John furthered his education at the University of Wisconsin-Madison, majoring in Pre-Med and Bio-Chemistry. He went on to graduate from Marquette University Medical School where he earned his doctor of medicine degree. Dr. Nilles also served his country with the U.S. Army during the Korean War as a member of the Medics Unit. On June 23, 1951, Dr. Nilles was united in marriage to Marion Jeske at The Basilica of St. Josephat in Milwaukee. Marion preceded him in death on September 9, 2005.
Dr. Nilles began his early medical practice in Two Rivers for a short time before moving it to Mishicot where he practiced for many years until his retirement in 1992. After his retirement, Dr. Nilles volunteered with the "Friends of Haiti Group" out of Green Bay, and did several mission trips to Haiti. John and Marion also enjoyed many years of traveling together with their family; John was also an avid gardener. His yard and flower gardens were always very important to him. Dr. Nilles was a member of the Mishicot Lions Club, and a longtime 4th degree member of the Knights of Columbus, Rev. Francis Simono Assembly #1220 of Two Rivers and served with it's Honor Guard.
Dad lived his entire life with very strong faith & family values. He was a very faith oriented individual which guided his life direction and decisions.  The local communities in which he worked, lived and worshiped were very important to him, which led to his endless desire to serve the people within them. Family & faith were the center of Dad's life.
Dr. Nilles is survived by his children: Terry Nilles (Penny Young) of Fort Wayne, IN, Mark (Linda) Nilles of New Berlin, WI, Nancy (Stephen) McFadden of Odenton, MD, Julie (James) Mohrman of Oshkosh, WI, Mary (Edward) Junk of Manitowoc, WI, Jacque (Christopher) Schmitt of Two Rivers, WI, Susan (Kevin) Meneau of Wright City, MO, Jean (Dean) Noskowiak of Antigo, WI, Jane (Joe) Decker of Evansville, WI, and Lorra (Jerry) Klein of Oshkosh, WI; his many grandchildren include: Tegan Nilles and fiance, Jacob Truax, Morgan (Nate) Comsia, Anthony Nilles, Jack Nilles, Michael (Erika) Billings, Jason Billings, Nikko McFadden, Jennifer (Michael) Griesbach, Jessica (Derek) Elum, Jeanette (Michael) Good, Mercedes (Aaron) Gauthier, Maximilian (Elizabeth) Schmitt, Madeline Schmitt, Montgomery Schmitt, Nicholas (Kristina) Junk, Jonathan (Katie) Junk, Tamara (Sean) Claire, Jacob Meneau, Cassius Noskowiak, Cameron Noskowiak, Sebastian Noskowiak, Alec Decker, Sydney Decker, Benjamin Klein, Samuel Klein, and Abraham Klein; along with twenty three great-grandchildren: Henry and George Comsia; Jacob Ian McFadden; Ashley and Nicole Griesbach; Murphy and Emmet Good; Remi Elum; Simon, Charlotte, Cayden, and Tatum Junk; Sophia, Kaleb, and Owen Heuer; Anthony Gauthier; Leo Schmitt; Penelope, Evelyn, and Oliver Claire; Anna, Jackson, and Alexis Billings. Many nieces, nephews, other relatives and friends also survive. John was preceded in death by his parents, Henry and Nellie Nilles; his father-in-law & mother-in-law, Frank and Bertha Jeske; one brother, Rev. Hubert P. Nilles; three sisters & brothers-in-law, Marie (Sherman) Clark, Dorothy (Daniel) Scherer, Eleanore (Orwin) Jacobsen; and sisters-in-law, Eileen (Gil) Janik and Ruth (Buster) Struck.
Funeral services will be held at 11:00 a.m. Thursday, August 2, 2018 at St. Peter the Fisherman Catholic Church, 3201 Mishicot Rd. Two Rivers. Officiating at the Mass of Christian Burial will be Rev. Tom Reynebeau, with burial to follow in Holy Cross Cemetery, Two Rivers. Military graveside honors will be accorded by members of the American Legion Post #165 and VFW Post #1248 of Two Rivers.
The family will greet relatives and friends at St. Peter the Fisherman Catholic Church, 3201 Mishicot Rd, Two Rivers, from 4:00 until 7:00 p.m. Wednesday evening, and Thursday morning from 9:00 until 10:45 a.m.
Online condolences may be sent to the family by visiting www.dejamartin.com.
Memorials in Dr. John E. Nilles' name may be made to: The Curran Spirituality Center, Attn: Rev. Wm G. O'Brien at E416 County Road KB, Denmark, WI 54208 (or)  Friends of Haiti: 1245 E. Mason Street, Green Bay, WI 54301.
Deja & Martin Funeral Chapels, 1506 18th St. Two Rivers, is assisting the Nilles family with funeral arrangements.
The Nilles family would like to express their sincere appreciation to Dr. Robert A. Gahl, the caregivers of Heartland Hospice, and the entire staff of the Wisteria Haus for all the compassion and wonderful care extended to our dear father and grandfather over his final journey. A special thank you also to Fr. Wm. G. O'Brien for his friendship and comforting prayers over the years. Your kindness is very much appreciated by our family.