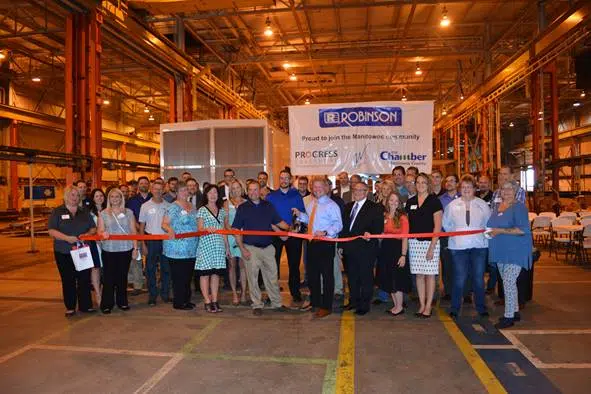 Robinson Metal Inc. Of De Pere held a ribbon cutting at its Manitowoc location yesterday. The 112 thousand square-foot facility on South 30th street was used for production by Manitowoc Cranes which moved its operations out of state in 2016 and 2017. Peter Wills of Progress Lakeshore says the skilled workforce left behind caught Robinson's attention during its initial 2017 visit.
Mayor Justin Nickels.
Sam Thomas is Robinson's Operations Manager. He says it's a blessing that Manitowoc, a 40 minute drive away, had exactly what they were looking for to meet "customer demand."
Robinson's Custom Enclosures Division—that's experienced a 30 percent increase in business the last two years—expanded into the facility May first with 30 employees initially hired. Thomas is hopeful for double that by the end of the year. He adds that negotiations are going well to purchase the facility outright from the Manitowoc Company.